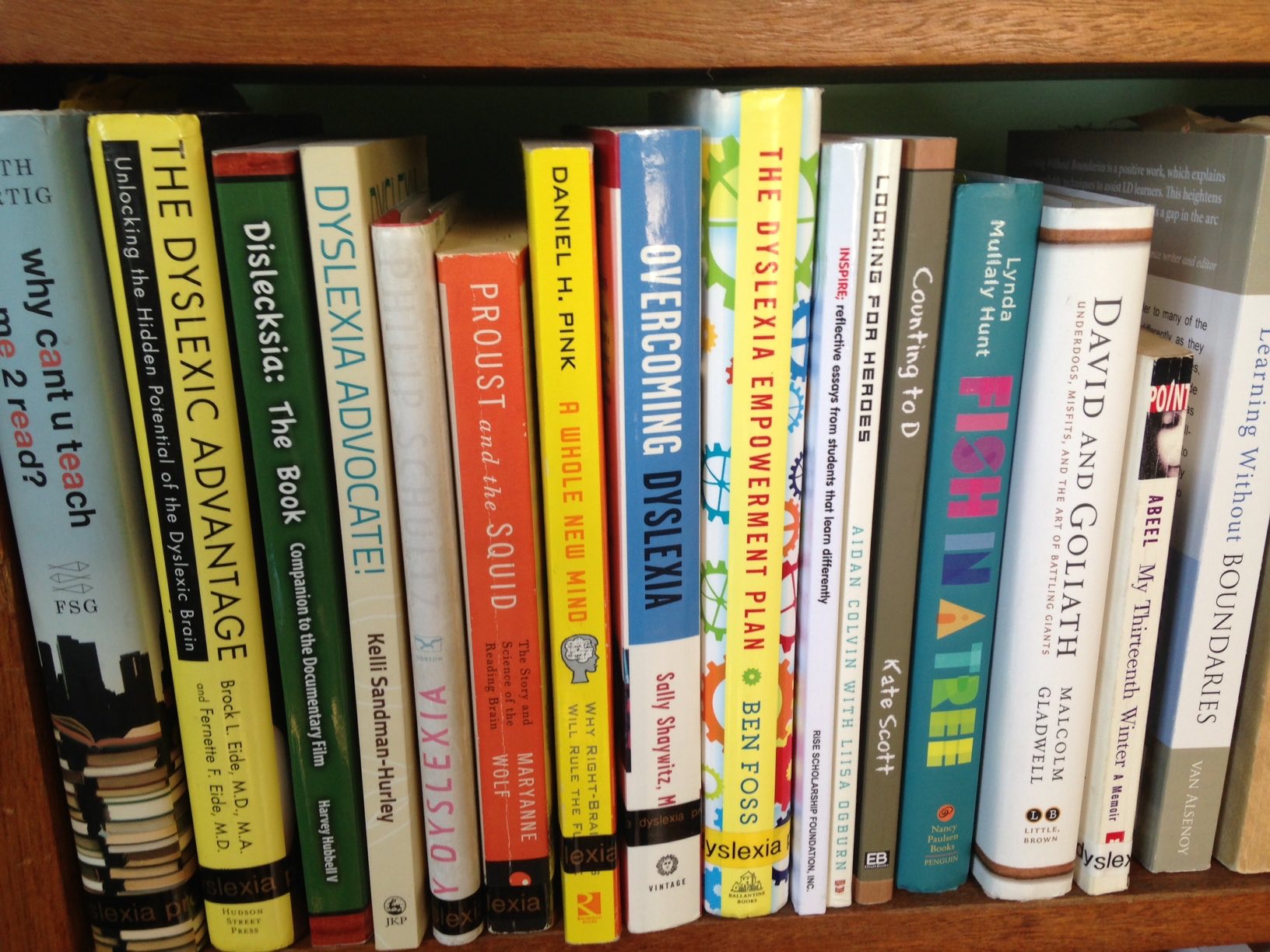 We have assembled a comprehensive library of books, videos, reports, and reference materials, ranging from children's books to information about dyslexia in the workplace. 
Although dyslexia affects 1 in 5, and there is a great need for awareness about it, Santa Barbara is too often what we refer to as a "dyslexia desert," with too little knowledge about it, and too few places for help. We are responding to the continued need for access for information about dyslexia and literacy in Santa Barbara by establishing a new Community Resource Center.
Not so long ago Santa Barbara was a leader in dyslexia field. For decades, the community was served by the nationally known Dyslexia Awareness and Resource Center, run by dyslexia pioneers Joan and Les Esposito. When the couple entered their well-deserved retirement, they generously donated the contents of their priceless library and collection of resources to the Santa Barbara Unified School District.
Under the leadership of then-superintendent Dr. David Cash, Cheri Rae was hired to re-purpose the donation into a new Parent Resource Center to continue to serve the community. Throughout his tenure, the center was supported by community members, generous philanthropists, political leaders and knowledgeable educators who realized its value to parents, students, educators and the greater community. Many articles were written about it, and it was visited regularly by influencers who learned of the valuable outreach services and assistance for parents offered at the center.
Under the auspices of the Parent Resource Center, "Dyslexia Dialogues," monthly informational meetings were held, and the annual "Distinguished Dyslexics Series" was established, featuring notable dyslexics who presented to students and the larger community. Those presenters included author Victor Villasenor; advocate John Rodrigues; filmmaker Harvey Hubbell; entrepreneur Paul Orfalea; and Academy Award-winner Peggy Stern.
Unfortunately, the superintendent who succeeded Dr. Cash inexplicably closed the Parent Resource Center, and ended dyslexia outreach to the community.
But the need continues, as evidenced by the number of individuals who continue to contact The Dyslexia Project for advice, direction and information about how to best advocate for and educate their dyslexic children. We are also regularly approached by dyslexic adults who seek resources and reassurances about how to deal with their dyslexia in the workplace and who want to help provide encouragement and mentorship to others.
To serve this need, we are assembling our resources and dedicated space to make them available to the public, once pandemic restrictions are lifted. Meanwhile, we offer a kind of "Virtual Center," with assistance by phone, Zoom, and in responsibly socially distanced in person conversations. As conditions allow, we will once again offer regular meetings, video showings, workshops, artistic opportunities and other planned presentations to continue our outreach about dyslexia and literacy.